V-OFFICE
Your virtual space for important functions to connect
All-in-one solution for Asset, Facility, Inventory, Staff Activity Management. Perfect for any service-based businesses.
Benefits
Features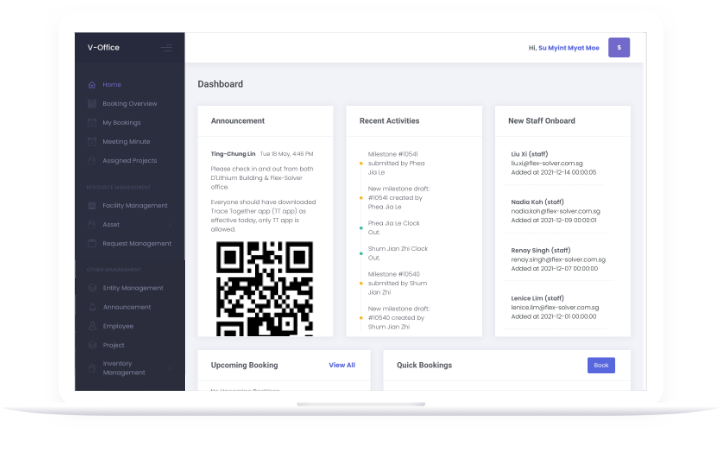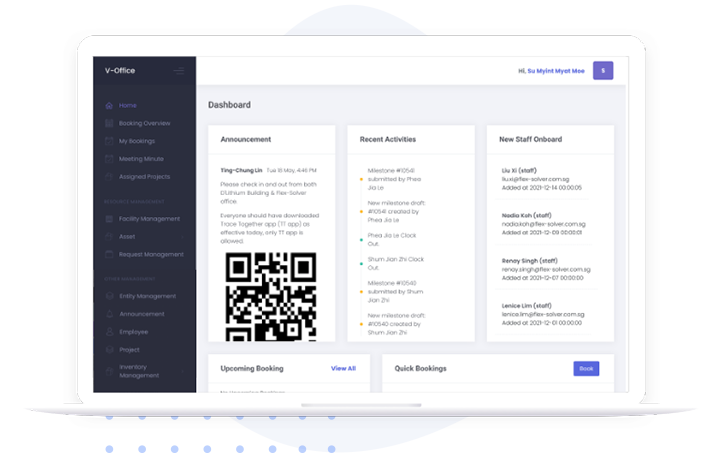 Modular Dashboard
Publish company announcement, quick booking of facilities, system notifications and more!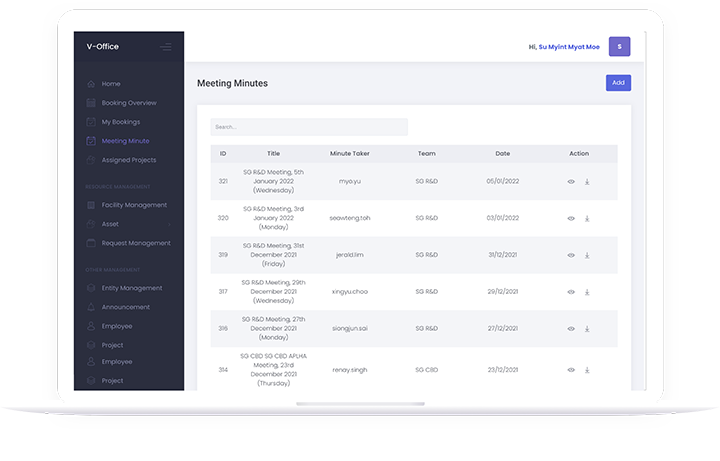 Handy Tools for your Business
Smart Meeting Minutes: auto-assign minute taker, suitable for daily stand-up
Integrated with outlook for various email notification embedded with direct links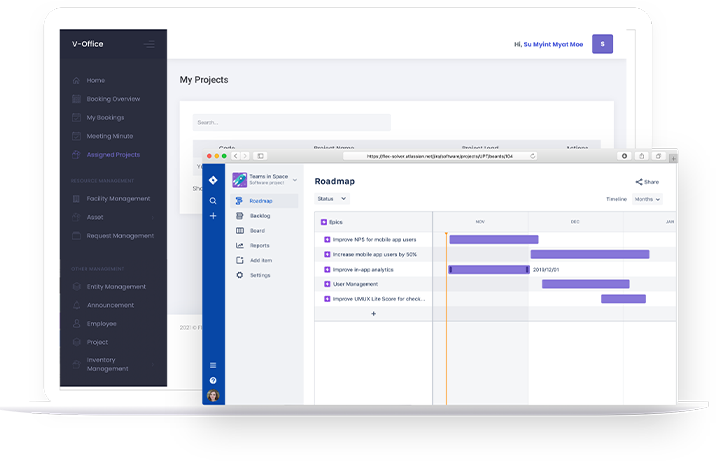 Project Management
Need a place to keep track of ongoing projects?
Declaration of resources, time spent, milestone tracking
Integrable with Jira Software
Integrated with Microsoft AD for staff profile, avoid double user management
Resource consumption report downloadable in csv
Facility Management
Integrated with Outlook Calendar
Manage different categories of facilities, venues and attached assets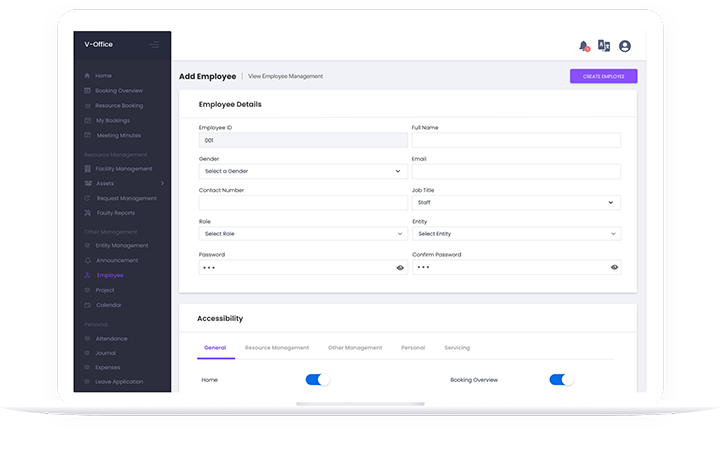 Asset/Inventory Management
Clear tracking of assets/inventory procurement, usage, disposal
Approval workflow for asset assignment
Can be used to track intangible assets such as software logins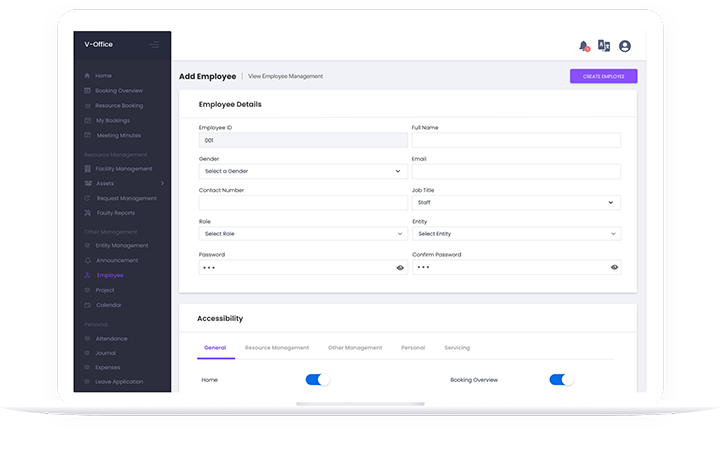 Employee Management
Simple attendance for your WFH staff or contract staff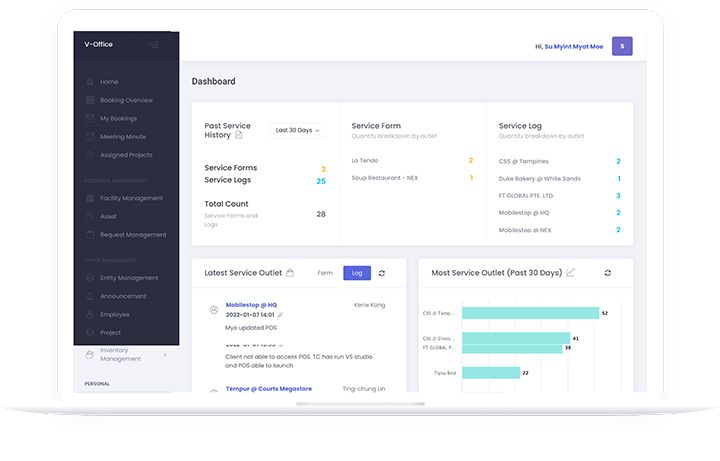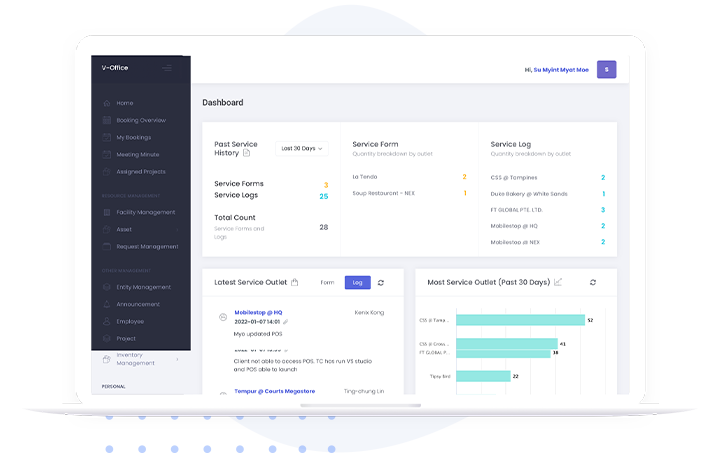 Service Portal
The Service Dashboard is going to be the best tool for your support/deployment team
Tracking of service tickets and status
eForm accessible on tablets -deployment form, on-site service form, deinstallation form, replacement form, training form, etc.
Pricing
We believe in pricing transparency and clear communication of our services and solutions.
With a cost of S$99.90, you can start enjoying.
Lite
Great for small businesses
Up to 10 Users
S$99.90
/license /mo
Select Plan
All prices are before GST
Scale
Ideal for business expansion
Up to 30 Users
S$259.90/mo
/license /mo
Select Plan
All prices are before GST
Find out how our products and services can benefit your business
Submit your details and we will get in touch with you shortly.